Welcome Emeriti Alumni!
Emeriti Alumni Mission Statement
The purpose of the Brigham Young University Emeriti Alumni Association is to promote friendship and fellowship among its members and support activities that will further the interests of the university, as well as benefit emeriti educationally, physically, and spiritually. Membership in the Emeriti Alumni include graduates of 40 years or more and retired faculty, administration, and employees of the university. We welcome all friends of the university.
Next Upcoming Event:
Evening With Friends
May 19, 2017
Time: 6:30 p.m. - 8:30 p.m.
Location: Assembly Hall, Hinckley Center
Speakers & Topic: Elder Spencer J. Condie
Registration: $16 RSVP by May 12 here: https://emeritimayevent.eventbrite.com
Program: Welcome and announcements will be followed by the college song and prayer. Dinner will be served and then we will hear from our speaker.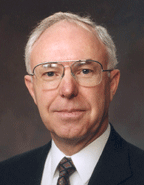 Spencer Joel Condie was born August 27, 1940 and has been a general authority of the church since 1989. Condie previously worked as a professor at BYU and also served as a mission president in Eastern Europe (Mediterranean Area). In 2010, he was designated as an emeritus general authority. He will be speaking on the topic, "Humor in High Places."
Emeriti News: EmeriTimes Summer Edition
View the calendar here for more 2017 events.
Emeriti Alumni Committee Contacts
Additional Questions?
Please contact BYU Alumni Services Assistant Natalie McChesney, 801-422-6661 or email: alumniprogramsast@byu.edu.
Having problems receiving or viewing our emails?
If you have not been receiving emails please contact our records department at 801-422-6740 to verify your information.
If there is an email you were expecting to receive, you may also check your junk mail or add the domain byu.edu to your safe senders list.
In order to view our fliers and the editions of the EmeriTimes you need the latest version of Adobe Reader (version 11). This can be downloaded for free here.